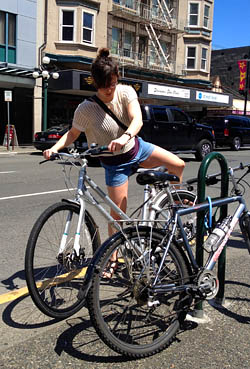 As the cycling capital of Canada, it's not surprising to find a great variety of bicycles parked around picturesque Victoria, British Columbia.
As I cruise around the capital, I'm often drawn to photograph the array of cycles gracing bike racks, parking meters and fences along the way.
Most often, I'm wielding my iPhone 4S (c/w 8 megapixel camera). In fact, this "project" was the main rationalization a few months back (before the announcement of the iPhone 5!) for the move up from the 3GS, with which one or two of the images in this gallery were made. Can you tell which?
I rarely meet the owners of the bikes I photograph, but I'm taken by how their machines give me an insight into their sense of style, if not their personalities. A lot can be inferred by the owner's choice of components and accoutrements.

Like the
Urban Cyclists
series, I'll make this an occasional feature, bringing you the beautiful and the battered from the streets of Victoria and beyond.